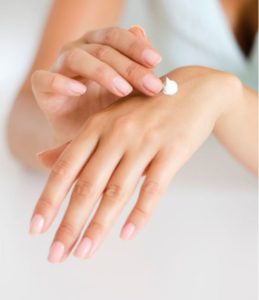 A few months ago, we began working with a brand new line of skin care.  Why? Because skin care is an area where we are getting a lot of toxins into our bodies.  Scientists who have researched all the chemicals, in skin care, causing cancers and organ damage have come up with a list of over 2,700 ingredients in lines on the market.  It's amazing we're getting this many toxins in just this one area of our lives.
This new line, we're working with, has committed to NOT use any of these ingredients to help protect us from breast cancer, ovarian cancer……caused by these toxins.
Another great plus is, proven, age reversal of skin up to 10 yrs. How? by repairing DNA of skin cells!  There's no other products on the market that can make this claim.
Here's what an Esthetician, who is a new user, has to say:" I have worked as an Esthetician for more than 20 years and have worked with so many skincare products!  Unfortunately, due to my sensitivity to many products I would break out terribly.  Most of the products I've worked with are filled with so many chemicals and toxic ingredients that, honestly, don't work well.
I was excited when I was introduced to this skincare line. I really love the clinical research behind it and the fact it has a 2700 chemical "free of" list. That is unheard of! I was able to sample the products and found within minutes I could see results on my hand. When you see results like this you know it's good and worth trying, so I ordered the kit along with the BB cream and I'm really loving it. I've not had any breakouts or sensitivity with it.
The BB cream brings out the natural beauty of your skin without forming a mask-like appearance. In all my years of working with other skincare lines, I've never seen results like this on my skin. I also feel the price is great compared to other top lines.
My 12-year-old son, who never compliments me, said to me three times, "Mom your skin looks so good." This made me feel great as I have suffered for 40 years with cystic acne. I never go out the door without makeup as I have been so self-conscience about my appearance. But this day I had no choice but to do so and was happy with how my skin looked and felt. I will definitely be continuing with this skincare!"  Gwen (note from us: The breakthrough of finding a way to repair DNA of skin cells can make a big difference!)
If you'd like to get more information about these products, let us know.  We're glad to let you sample!